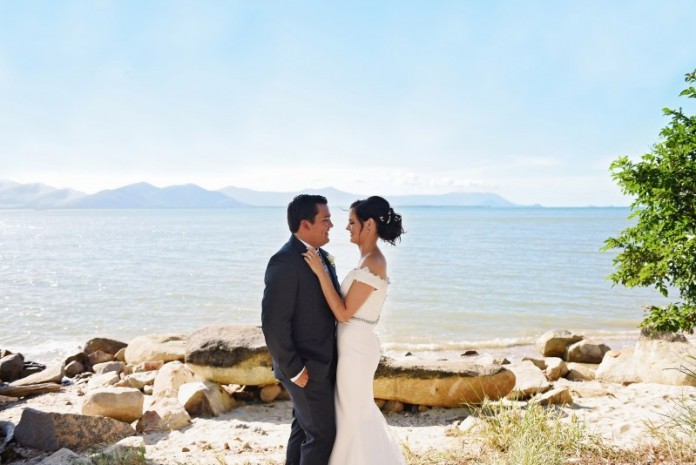 The Details
How did you and your partner meet? We met at a friend's wedding!
How did he propose? He proposed with a bunch of candles at his grandparents' house, it was super romantic and intimate which is what I've always wanted.
What's your most important piece of advice for creating and maintaining a strong relationship?
Honesty, trust and love
Tell us about your wedding gown and how you chose it:
My gown was the 4th dress I tried on. It wasn't the style I was looking for, but when I tried it on I loved it! It suited me perfectly.
What sort of style did you envision for your wedding day?
My venue was a bit rustic and elegant. I had ivy around the lanterns for the centerpieces with hessian runners. Fairy lights for the backdrop. It was simple and beautiful!
What was your favorite moment from the day? There were so many moments.
One that I'll never forget is I was sitting down at the bridal table. I put my flowers in front of me on the table and I didn't know I put it on a candle. So, some of my flowers caught on fire!!!
Lucky they were fake, I easily fix it. Not many people saw, but it was hilarious.
Any DIY décor elements?
I made my own chocolate favors and presented them nicely in little brown boxes.
If you could do it all over again, what would you change?
Only my cake! It was not what I wanted. I was very disappointed with it.
Any tips that you can give to future brides?
Remember to not stress. There's nothing to stress about. It's amazing how everything falls into place and on the day, it all flows!
Anything else you'd like to add?
Treasure every moment of your special day. You only get it once!
Suppliers
Dress: Devine Bridal
Makeup: Tropical Beauty http://www.tropicalbeauty.com.au/
Hair: Tropical Beauty
Accessories: Lovisa
Bridesmaids Dresses: After 5 Bridal and Formal
Grooms Suit: Roger David
Invitations: Adorn Invitations www.adorninvitations.co.uk/
Photographer: Adawphotography
Food: The Pacific Hotel
On The Day Stationery: BWedding Invitations www.bweddinginvitations.com/
Flowers: Perfect Moments
Ceremony Venue: Kingdom Hall Of Jehovahs Witnesses
Reception Venue: The Pacific Hotel pacifichotelcairns.com/