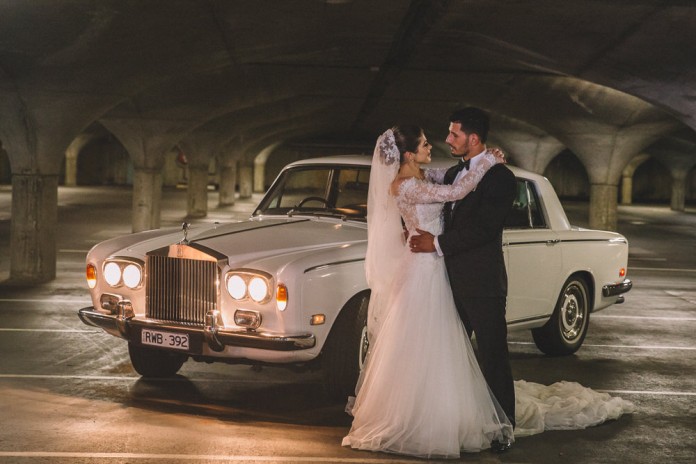 How did you and your partner meet?
Hasan was a personal trainer at a gym that I recently joined. We first met at the initial consultation and realised we both had attended the same high school yet were a few years apart. Later that day I left my water bottle behind and he found an opportunity to message me. It was the chemistry and fun that brought our relationship together.
How did he propose?
At my house in front of family.
What's your most important piece of advice for creating and maintaining a strong relationship? Trust – without it it's difficult to lay the foundation for your relationship. And always treat each other as if you're on your first date.
Tell us about your wedding gown and how you chose it:
First dress I tried on when I walked in. Then I tried on a couple more dresses after that but I kept coming back to the first one. It was what I was looking for, I wanted a long train and sleeves and that's exactly what they delivered.
What sort of style did you envision for your wedding day?
A timeless, vintage look with gold throughout.
What was your favorite moment from the day?
Walking into the venue and finding everyone all dressed and ready to meet us. It was a reminder of what great family and friends we have.
If you could do it all over again, what would you change?
Stress less.
Any tips that you can give to future brides?
Things are bound to go wrong, my advice is to just make the most of every moment, before you know it, the night is over and you're saying goodbye to your guests.
Wedding Invitations: Adorn Invitations https://www.adorninvitations.co.uk/
Dress: Jasmine 2016 from Belle et Blanc http://www.belleetblanc.com.au/
Makeup: Karla Roccuzo
Hair: Vera
Shoes: Zu
Accessories: Bariano
Bridesmaids Dresses: Custom by Belle et Blanc http://www.belleetblanc.com.au/
Grooms Suit: Hugo Boss
Photographer: Lahza Photography http://www.lahza.com.au/
Menus & Place Cards: BWedding Invitations https://www.bweddinginvitations.com/
Cake: The Sweeter Side
Food: San Remo Ballroom https://srbevents.melbourne/
Flowers: Lily Pad https://www.lillypadweddings.com.au/
Ceremony Venue: Home
Reception Venue: San Remo Ballroom