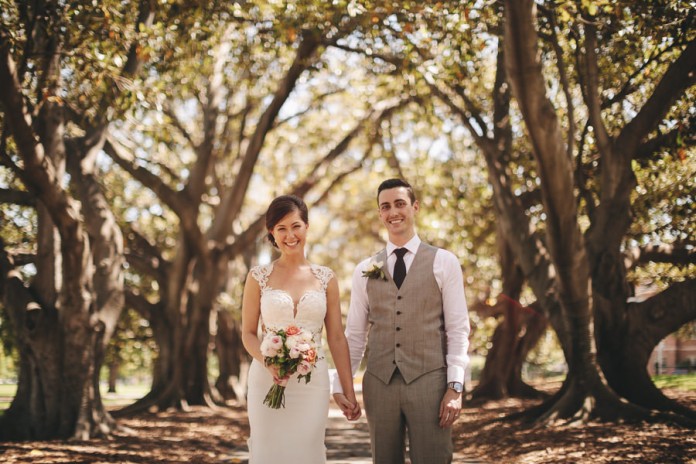 The Details
How did you and your partner meet?
David and I met in Amsterdam while traveling Europe.
How did he propose?
David completely surprised me by proposing while on a Sunday morning walk along the beach in Elwood. David tried so hard to make it a private moment for us, but it didn't work as passers-by yelled out "Congratulations!"
What's your most important piece of advice for creating and maintaining a strong relationship?
Communication is just so important, without it there are always issues. Talk it out and say what you mean!
Tell us about your wedding gown and how you chose it:
I was devastated when I started looking for a dress, I didn't like anything. Then I found Belle et Blanc where I had several dresses to choose from! It was an easy decision though, I loved my dress!!!
What sort of style did you envision for your wedding day?
I envisioned a beautiful summer afternoon and something simple with pops of color. The
Emerson was our first thought as it's truly the perfect classy rooftop. Crisp white tables and
chairs on top of synthetic grass giving an easy "Sunday lunch" feeling. Then we added bright flowers and buckets of colored shots to get the party started 🙂 It turned out better than I imagined.
What was your favorite moment from the day?
The whole day was amazing. I remember sitting down for lunch and thinking, "Take a moment to look around." All of the smiling and laughing from our loved ones was all we wanted for our wedding day, and that's what we got.
Any DIY décor elements?
We made signs for the shots that said "Have a shot we tied the knot."
If you could do it all over again, what would you change?
I wouldn't change anything! It was honestly amazing!
Any tips that you can give to future brides?
Don't stress so much, it really isn't worth it. Enjoy the process, but don't make it harder than it has to be and make sure it's what you want. You're the bride, it's your day! Remember that this is your day.
The Team
Dress: Belle et Blanc www.belleetblanc.com.au/
Makeup: Ben Dniprowskij
Hair: Runway Room Prahran
Wedding Invitations: Adorn Invitations www.adorninvitations.co.uk
Accessories: Love On Jewellery http://www.loveonjewellery.com.au/
Grooms Suit: Oscar Hunt
On The Day Stationery: BWeddings www.bweddinginvitations.com/
Photographer: Darin Collison darincollisonphotography.com.au/
Cake: Ministry of Cake
Food: The Emerson
Flowers: Jizell Flowers jizellflowers.com.au/
Ceremony Venue: The Emerson www.theemerson.com.au/
Reception Venue: The Emerson
Hire: Complete Function Hire