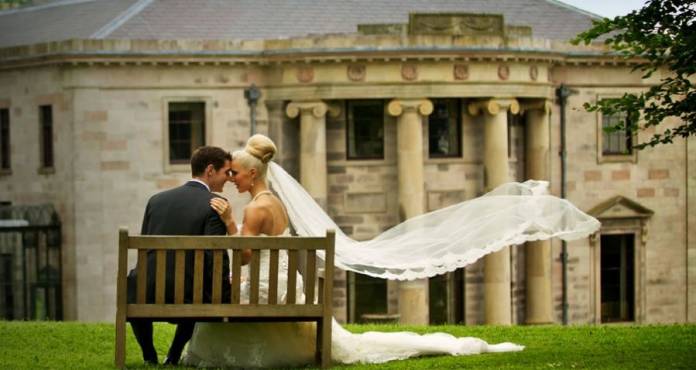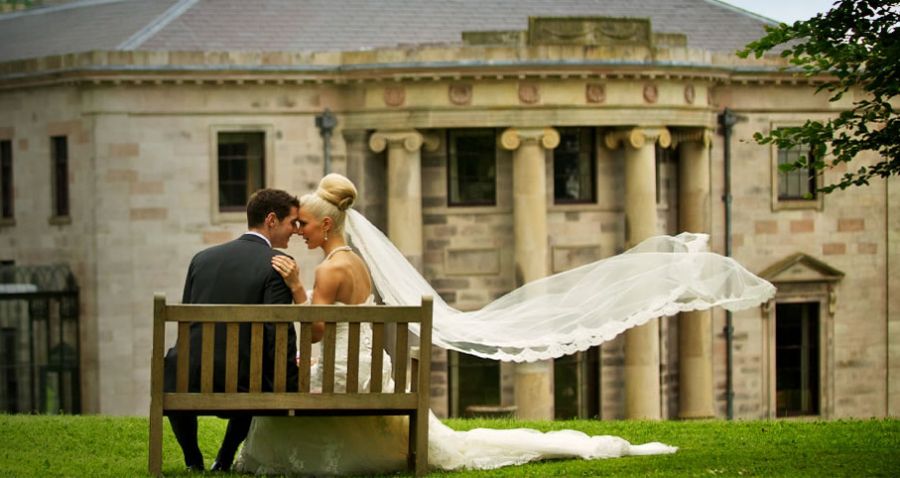 Ballyfin Demense, County Laois
Ballyfin is one of Irelands most elegant destinations. A byword for grace and luxury since the eighteenth century, it offers a magnificent state dining room, which opens out onto a beautiful terrace offers seating for up to 60 guests, while parties of up to 130 guests can avail of the ballroom, which is adorned with giant mirrors and spectacular views of Ballyfin lake. Besides all the festive activities, guests can avail of falconry, boat trips, picnics, horse riding, archery, fishing and more. From the food, to the spectacular art collections and impeccable service, Ballyfin is the stuff of dreams. A wedding wonderland. Ballyfin, County Laois, Ireland, tel: +353 (0) 5787 55866, www.ballyfin.com

Ashford Castle, Cong, Co. Mayo
One of Ireland's most famous castles, Ashford Castle and its idyllic surrounds offer one of the most romantic settings in Ireland. An unparalleled wedding venue, the enchanting estate has 2 churches on its grounds, a beautiful lake, woodland, a Victorian walled garden and view of the castle to ensure timeless wedding photos. The character and charm of this magical Five Star castle are world-renowned. The award winning chefs and kitchen & service teams ensure the best in Irish hospitality for your special day. The attention to detail and luxury will make your wedding difficult to surpass. For more information visit www.ashfordcastle.com. Ashford Castle, Cong, Co Mayo, Ireland, tel: +353 94 9546003.
Castle Leslie, County Monaghan
One of the finest castles in Ireland, Castle Leslie encapsulates old world glamour with modern luxury. A private retreat free from the intrusions of the outside world, Castle Leslie offers individual guest rooms- homage to its wildly interesting past. Romantic boudoirs, flamboyant bedrooms and rooms of calm with baths for two or Jacuzzis are available to guests. Still in the hands of its founding family, the 1000-acre estate with private lake is steeped in history and full of character and charm. The magnificent Castle is full of old-world grandeur and character and can accommodate wedding parties with up to 70 guests, while the pavilion can accommodate up to 260 guests. Tailor made menus and excellent staff and facilities ensure the wedding of a lifetime. Castle Leslie Estate, Glaslough, County Monaghan, Ireland, Tel: +353-47-88100, email: events@castleleslie.com
Visit: www.castleleslie.com
Merrion Hotel, Dublin
Set in the heart of old Dublin, the Merrion Hotel eclipses all city hotels to offer a magical wedding experience. Enjoy a special day in beautiful Georgian surrounds, high ceilings and breathtaking tapestries. The hotel houses Ireland's only 2 Michelin Star restaurant, Patrick Guilbauds, while the wedding menus is second to none. Holding up to 90 guests for your wedding reception, the hotel with its marbled hallways, landscaped gardens and terrace offer breathtaking views for photographs. Enjoy this charming city hotel in all its glory with top quality service, excellent spa and swimming pool, food and tranquil surrounds for your city wedding. 21 Upper Merrion St, Dublin 2, tel: (01) 676 4192.
Tankardstown House, Co. Meath
For a very special wedding day, Tankardstown house is just a 40-minute drive from Dublin City. Comprising of an 18th century Manor House and Orangery, 80 acres of parkland, woodland, courtyards and walled gardens as well as the famous gardens by the Yew Tree, the estate offers a fantastic backdrop for your special day. Inside, the Orangery offers chandeliers, gilt edged mirrors and beautiful décor, while the terrace and gardens beyond it are the stuff of dreams. Your wedding will receive the greatest of attention and care from the excellent staff. The food is spectacular. The venue is second to none. Rathkenny, Slane, Co. Meath · 041 9824621, info@tankardstown.ie.
www.tankardstown.ie