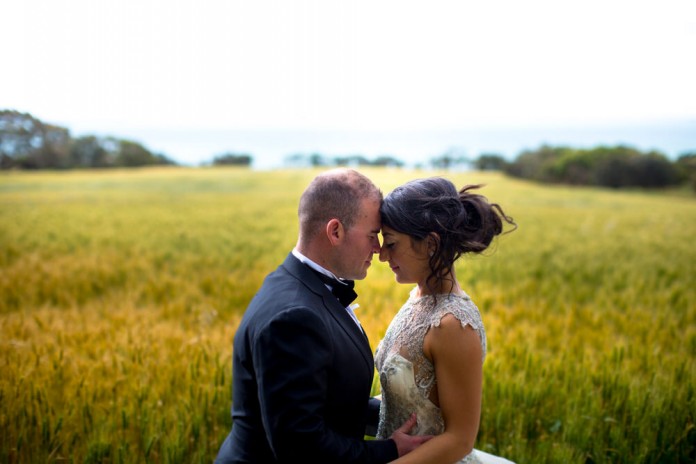 The Details
How did you and your partner meet?
My friend Laura met Adam online and instantly knew she had to introduce him to me. "There's something about him that makes me think the two of you should meet", she said, and the more I ignored her the more she insisted. Eventually Laura invited Adam out to drinks without telling me and, although at the time I could have killed her, I'm so happy she did.
Adam and I hit it off instantly. He was funny and sweet and was surprised to learn I enjoyed watching a lot of the same things he did, including sports. We had so much in common, we could have spoken all night. He asked me out and our first date turned to a second and third and as long as he kept me smiling I kept saying yes when he asked. I don't know what number date we are up to now but we still go on date nights even now, and he still makes me smile.
How did he propose?
We were in Rio De Janeiro as part of our trip to South America,
Adam and I had travelled there for the World cup in 2014 and were lucky enough to share in the experience of watching the world's biggest sporting event. On our last night in Rio, Adam suggested we go out to dinner to farewell the beautiful city.
Little did I know that he had organised for a private moonlight picnic on Ipanema beach. Lanterns, cheese and wine overlooking the stars and the lights of Rio's favela it was perfect… almost perfect. Except that Adam got us lost on the way.
We walked around for almost an hour in what I thought was a quest to find the beachside restaurant that Adam had booked… all the while not knowing there was no restaurant or reservation and that Adam couldn't find the picnic set up he was trying to surprise me with.
I had suggested that we give up and go back to the main area of Ipanema, Adam was determined and grabbed my hand to lead the way. He thought getting to higher ground would help so we climbed up a hill face on the beach where eventually we reached the top. The moon was bright and cast a beautiful light over the waves on the beach that night and the lights of the hundred cliff face homes across the beach looked like fairy lights from a distance. It was a beautiful view, breathtaking.
Locals were gathered on the cliff and a small group stood to the side of us one of them had a small guitar which he started to play Spanish music on, perfectly timed (Even though not at all what he had planned) Adam got down on one knee and asked me to marry him. With the ocean breeze, the Spanish guitar and the breathtaking views it was like something out of dream. I of course was frozen and in shock. After a big embrace, Adam looked at me worryingly. "You haven't answered" he said. "YES!" I smiled at him
By getting lost we found the perfect spot to capture that moment. We did eventually find the beach picnic.
What's your most important piece of advice for creating and maintaining a strong relationship?
Always laugh and talk talk talk!
We try to not take things too seriously, and attempt to talk things through as much as possible.
Our commitment to 'us' is life long and we both know we have to work on it every day, we just try to have as much fun as we can along the way.
Tell us about your wedding gown and how you chose it:
The amazingly talented Elide at Bonita Couture Melbourne created a one-off gown made from over 75 meters of Italian tulle and hand beaded French lace.
With an intricate silver beading and a metallic silver bullion thread embroidered in the weave of the lace hand appliqued across the contoured boat neckline and bodice, the gown would catch different shades of light and appear to have both warm and cool tones. The fine Italian tulle cascaded softly into a pale gold and ivory full skirt that added decadence to the gown, a hint of a modern element was the barely there back. The dress was completely backless, dropping quite low to add an element of modern design but tastefully under the hand appliqued lace and silk buttons. I don't know if I loved the front or the back of the dress more!
The decision was made when I put the dress on, I felt like a bride for the first time. It embodied everything I was looking for, classic elegance, decadence and a hint of a modern bride.
What sort of style did you envision for your wedding day?
Adam and I both appreciate traditional qualities and we wanted our day to be an elegant celebration. Our heritage listed beachside church provided the perfect place to share our vows. With simple white lanterns adorned along the aisle the church itself stole the attention. Picturesque with rose gardens to greet our guests and a historic church bell that rang out as we walked out as husband and wife.
Terindah Estate in Bellarine is an exclusive award-winning venue. Stunning and sophisticated, the country estate sits amid the vineyards, overlooking beautiful fields with a peaceful ocean backdrop. Adam and I fell in love with Terindah as soon as we saw it.
We wanted to make the most of the picturesque views and the nearby ocean in terms of a theme. Whilst maintaining an elegant approach we kept our styling clean and natural.
Lots of crisp white linens, finished off with gold accents and warm candle light.
We had four long tables adorned with lots of green foliage, gold napkin rings, gold table top towers with cascading greenery gave us the element of texture and height working in filling the light and open space.
The long lush tables with candles running down the center were met with a large ceiling installation created by the lovely and talented Danielle from Moss Industries; made of leafy greens, local ferns it worked in creating an almost waterfall like piece that tied in the theme and captured everyone's attention as they walked into the room.
We wanted our guests to feel as though they were sharing a meal with family and so we opted for share platters to add warmth to the evening, encouraging conversation whilst guests were dinning. Our favors were small boxes of traditional Lebanese sweets individually boxed and wrapped with silk gold ribbon for each guest. Tying in with my heritage and the tradition of the sweets, which are often used to celebrate a special occasion, these favors were a lovely addition to the tables and the guests loved them.
What was your favorite moment from the day?
By far the look on Adam's face as I entered the church. It was pure happiness and love, as if it were almost exploding out of him. Later that day Adam and I stole a moment to sit in our reception venue before the celebration started and just have a quiet minute to ourselves and just breath it all in, we were both so happy we did that.
Any DIY décor elements?
Our 9 little guests were greeted with a specially designed Adam & Antoinette coloring book, produced by my sister. The Book and a collection of crayons wrapped in gold silk ribbon were placed on each of the nine children's plates just in case they wanted something to do. "Help uncle Adam get to the church" (drawing maze), a wedding themed word find and a "colour the wedding cake" page were all lovingly created for us by my amazingly talented sister Lina. The kids loved the activities and coloring in and the parents appreciated them, too.
If you could do it all over again, what would you change?
I don't know that I would change anything. We really did have a beautiful day, and as wonderful and happy as it was married life is even better!!! We are both loving where we are now.
Any tips that you can give to future brides?
On the day of your wedding things will go wrong, it's a fact. Just let it all go, breath and take in all the love of the day. Love from your family and guests and the love you and your partner have for each other. That's why you're all there in the first place!
Photographer: PixRay Photography http://www.pixrayphotography.com.au/
Stationery: Adorn Invitations https://www.adorninvitations.co.uk/
Dress: Bonita Couture http://www.bonitacouture.com/
Makeup: Nahrein Yacoub
Hair: PeterPeter Hair
Shoes: Kurt Guiger
Accessories: Family diamonds, borrowed for the day
Bridesmaids Dresses: Love Honor Boutique & Forever New
Grooms Suit: M.J Bale
On The Day Stationery: BWedding Invitations http://www.bweddinginvitations.com/
Cake: Ministry of Cakes http://www.ministryofcakes.com.au/
Food: Terindah Estate
Flowers: Moss Industry
Ceremony Venue: St Aloysius Church, Queenscliff
Reception Venue: Terindah Estate, Bellarine http://www.terindahestate.com/