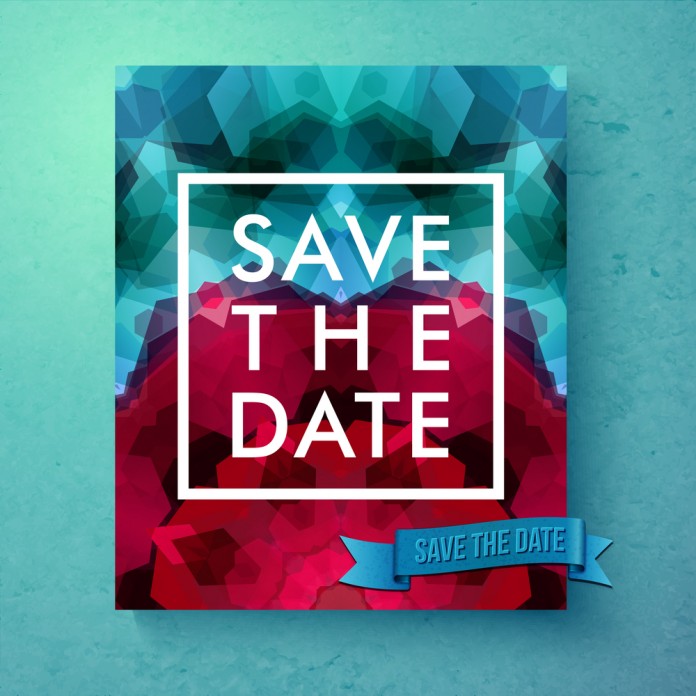 Save the Dates do come in handy. They tell your guests you've chosen a date for your wedding and that they've made the list. They give you an excellent opportunity to set the tone and build excitement for your wedding. Instead of the classic cards, you can go for some fun non-traditional ways. Let's share our top 10 brilliant ideas.
1. Watercolour
Watercolour is an easy DIY technique that requires no artistic inclination for you to pull it off. The combination of soft pastel and hand lettering will appeal to your friends and family and persuade them to mark their calendars.
2. Mini Easel
A great way to ensure your Save the Date remains in your guests' view is by displaying it on a mini wooden easel. You will need a paint brush, glue, scissors, mini canvas and easel to DIY this cute Save the Date and a small box to send it via post office.
3. Stamps
Custom stamps give your Save the Dates a unique spin. You can give guests a clue of how your wedding will be by correlating the ink to your theme. The stamps can be imprinted on many different surfaces such as muslin bags, library cards, postcards and notepads.
4. Magnet
A Save the Date magnet can be stuck on a fridge, reminding guests of your big day several times each day. Get an image you consider to be symbolic of your wedding affixed on a magnet. Add details such as your names and wedding date.
5. Calendar
A customised calendar that has your wedding date clearly marked will make your day unforgettable. You can do it yourself using a computer or have a stationer print them.
6. Matchbox
What better way to show how you and your partner are a perfect match than using custom-printed matchboxes? They double as nice keepsakes your guests can use after the special event.
7. Bookmark
If the two of you are bonded over books, Save the Date bookmarks will be perfect for you. Guests can use them to bookmark their calendars or a page in their current read.
8. Balloon
Printed balloons are fun, adorable and interactive. When guests inflate them, they'll see all your wedding details.
9. Location photo
Use your Save the Date to pay homage to a special location such as the city where you first met. You can display the city's skyline or a particular landmark with a bold text overlay.
10. Video
For something unique, produce a Save the Date video. You can choose to work with a professional videographer, friend or just the two of you. Tell your love story in three parts: the beginning, middle and the end where you emphasize the date. After you're done, email your video to friends and family. To make it more memorable, save the video on DVDs and send them out to friends in customised packaging.
Save the Dates can tell your guests what to expect on your big day. Make a lasting impression by using one of the above unique ways.