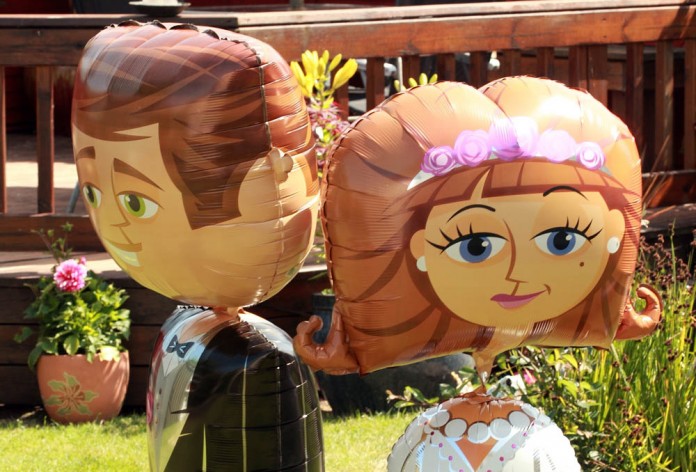 John and I met when we were just 15 years of age, both working in a local pub as lounge boy and girl. After forming a good friendship, we got together two years later wen we were just 17. Over 8 years later, John proposed in Rome on January 6th 2012.
My best friend and one of my bridesmaids Fleur Dillon, an Artist and Interior Designer handmade all of our invitations, table plans, favours and decorations. This began our colourful and truly unique journey to our wedding day.
So the day arrived, Friday 12th July 2013. At half 7 that morning the sun was already splitting in the sky. I can safely say that our 5 child of Prague statues had worked. My bridesmaids and I stayed in my parents house in Naas the night before to kick the celebrations off. We nipped across the road to Occasions Hairdressers where they styled each of our hairs fantastically. It was already 22 degrees at this point. Next to arrive was Johns cousin, Donna Jones, a make-up artist and hair stylist who had flown all the way from Canada for our special day. She did all our make-ups and was amazing. This was so special to me as I grew up with Donna and she actually introduced John and I all those years ago while also working in the pub (Grumpy Mc Clafferty's, Tallaght, Dublin).
Our photographers arrived next. We had DoubleClick Photography – Jill and Aaron, a couple photography team. Aaron went to John's Mums house and Jill to mine. It was lovely to be able to look back over the photographs of John's morning too. This is what added to the uniqueness of our day. They captured the whole day through two lenses and there wasn't a single shot they missed. A fabulous team!!
Time ticked away quickly, I was 35 minutes late, guests were roasted in our tiny church, Kill Church, Kill, Kildare (our local church). We exchanged our vows in front of our 170 quests. Everyone gathered outside the church with the sun beaming and ray bans in check. It was already 30 degrees at this stage and not a cloud in the sky. Our wonderful photographers caught the most magical pictures of all our guests in the sun outside the Church.
We headed off to our Venue, Dunboyne Castle Hotel in Meath. We chose this venue as it was perfect for us – not too far away, beautiful grounds, linked the new with the old and provided the most wonderful, sun splitting day for all our guests. I remember Aaron, one of the photographers telling me it was 33 degrees when we were outside doing our groups shots. It was truly a memorable day. I think if we had of brought our guests to Spain, we would not have been guaranteed sun or heat like it. We are so thankful for the wonderful memories which are captured in our beautiful photographs below.